The core team at Kingmakers comes from Wired Investors and this is a case study on the acquisition and growth of a Wired Investors property.
Background
In Sept. 2016, Wired Investors purchased Start Blogging Online (SBO).
We built traffic and revenue for SBO, and in this article, we'll show you what we did and the results thereof.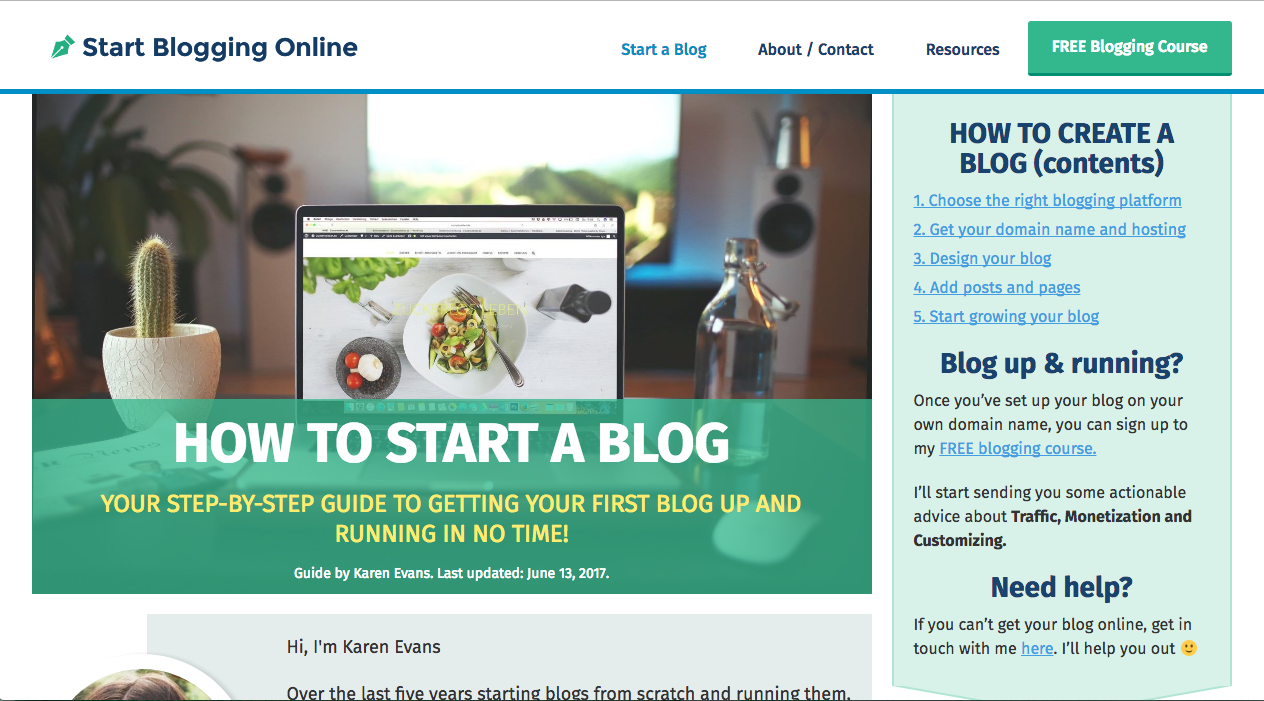 What is Start Blogging Online?
Start Blogging Online is a site founded in 2013 and it gives blogging newbies advice on how to start their own blogs.
Its main traffic source is organic search results from Google and it earns the majority of its revenue through being a Hostgator affiliate.
When we bought the site in Sept. 2016, it had a mailing list size of 8,914, but subscribers were not emailed often/regularly.
Several factors that influenced us to buy the website were:
It had a clean backlink profile; no PBNs or black/grey hat techniques were used
It was an aged domain
It was already ranking for some competitive long tail keywords
It had an existing relationship and a favorable custom payout rate with Hostgator, one of the biggest affiliates in the industry
The Risks
But, of course, it was not all roses. There were 2 major risks that came with this site.
First, nearly all of the site's revenue came from one affiliate program. If the program changed its payout, terms and conditions, or shut down, our revenue would be decimated.
Second, approximately 82% of its traffic came from organic Google search. And the homepage drove 60% of this organic search traffic.
We relied heavily on keyword rankings for our traffic and were at the mercy of Google's algorithm.
Deal Structure
Let's take a look at SBO's historical financials from Sept. 2013 to Aug. 2016.
As of May 2016 when initial negotiations started, the site generated about $800k in net income in the last 12 months.
But between then and when we concluded the negotiations in Sept. 2016, the net income started to decline to approx. $40k/mo.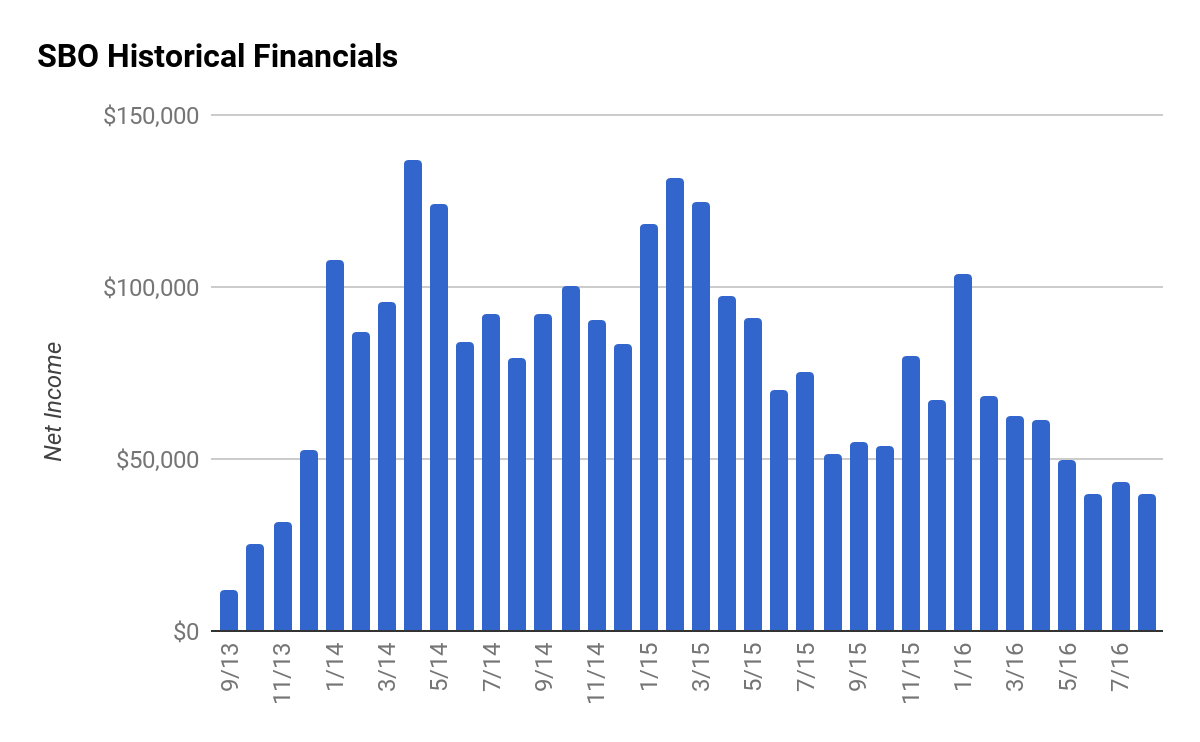 Note: These figures are net income after deducting expenses.
Our short/mid-term goal was to implement a growth plan (details below) and generate over $1m in revenue per year, with half of the revenue coming from our own products.
We also wanted to focus on email marketing and diversifying our revenue sources to mitigate the risks of relying on Google and Hostgator.
Our long-term goal was to aim for a 5x multiple when we sell the site.
The Opportunities
We saw several opportunities with SBO while doing our due diligence:
Growing traffic

Increasing organic rankings for the highest potential terms through link building
Scaling the content production to increase the amount of traffic and potential ranking opportunities
Improving on-page SEO and click-through rates from Google search results so we get more clicks

Turning more visitors into customers via conversion rate optimization

Adding in-content call to actions
Rewriting copy on key pages
Testing new opt-ins and copy

Focusing on email marketing

Setting up an email funnel to promote our own products & affiliate programs.

Improving monetization methods

Negotiating a higher affiliate rate with Hostgator
Signing up to other affiliate programs to diversify our revenue source
Creating an info product for the audience
What We Did
Drilling down further, we decided to hone in on growing traffic as our first step, which matched our team's expertise.
We also wanted to let our new links, new content, and on-page SEO changes boost the authority of our site before moving on to other improvements.
Note:
Because we only started to work on the site in Oct. 2016, we'll focus on Oct. 2016 to June 2017 in all the charts below.
The baseline figures in the charts are based on the average of May-July 2016.
I. Building Backlinks via Flickr
Yup, you read that right. We built backlinks using Flickr. This was a newish method and we had lots of success with it on SBO.
If you're a Flickr user, you can opt to offer your work under a Creative Commons (CC) license, and browse or search through content under each type of CC license.

What is a Creative Commons license?
A Creative Commons licence is a public copyright licence that enables the free distribution of an otherwise copyrighted work. It provides a standard way for content creators to grant someone else permission to use their work.
We created some images for Flickr and got them ranked on Flickr Creative Commons using SBO as the attribution.
Many big website editors ask their staff to find Creative Commons images on Flickr for their articles.
Our goal was for our images to be picked up by these big publications; thus, scoring us juicy attribution links.
Using this method, we scored a total of 190 backlinks from Oct. to Jun. Breaking it down, that was approx. 24 links/month from Flickr alone.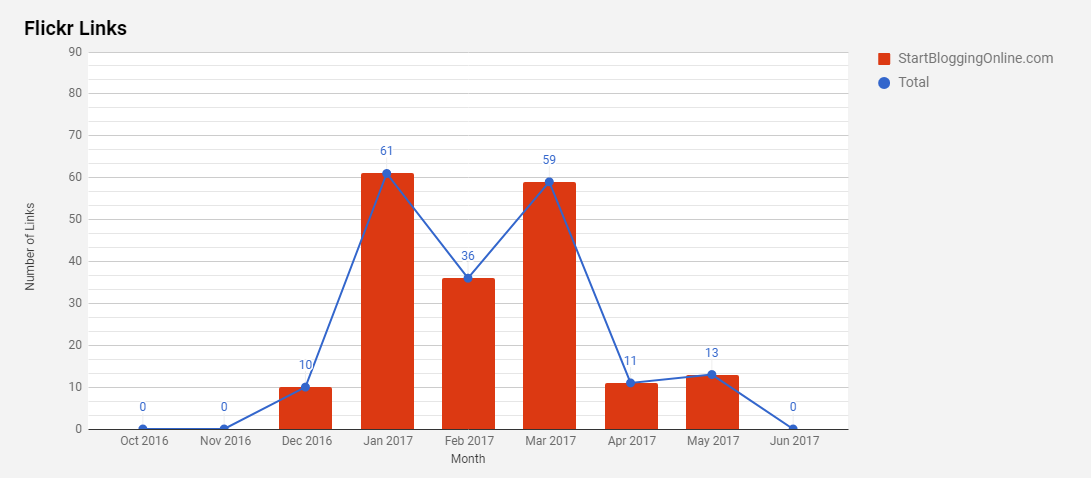 What was impressive was that the average DA of these 190 Flickr links was as high as 36.8!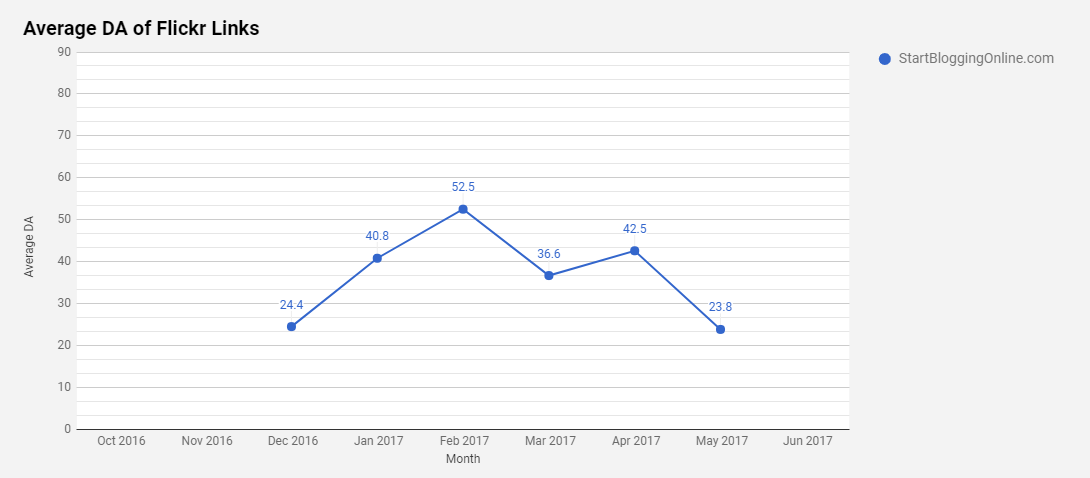 II. Building Backlinks via Infographics
Infographics were another great white hat way to win backlinks for SBO. We created 11 infographics between Oct. and May. Are you thinking "What? Only 11?"
True, we only created 11 infographics. But read on to find out what we did with these 11 infographics.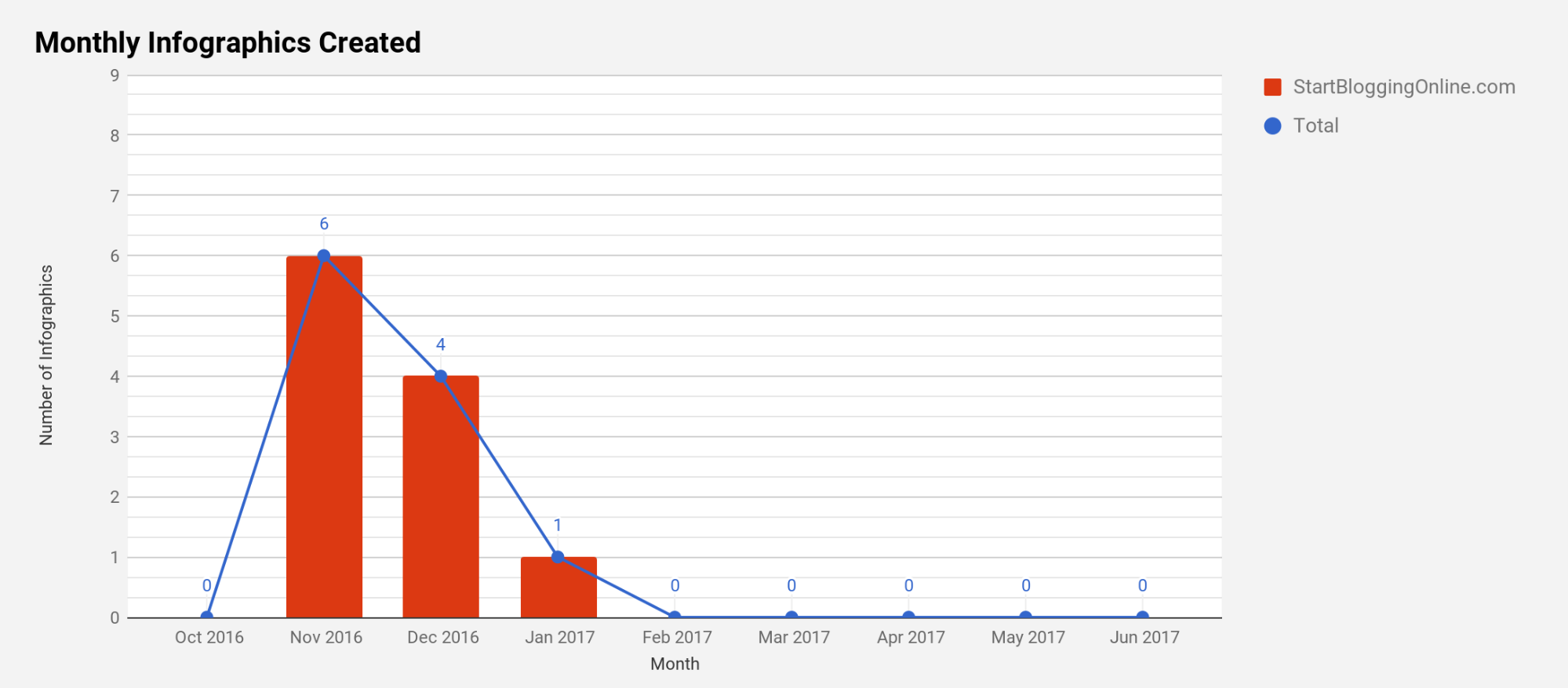 We outreached like crazy with these 11 infographics! We identified relevant blogs/sites and sent out 78,904 emails to their owners. Yes, you read that right; nearly 79k emails! And that's not all!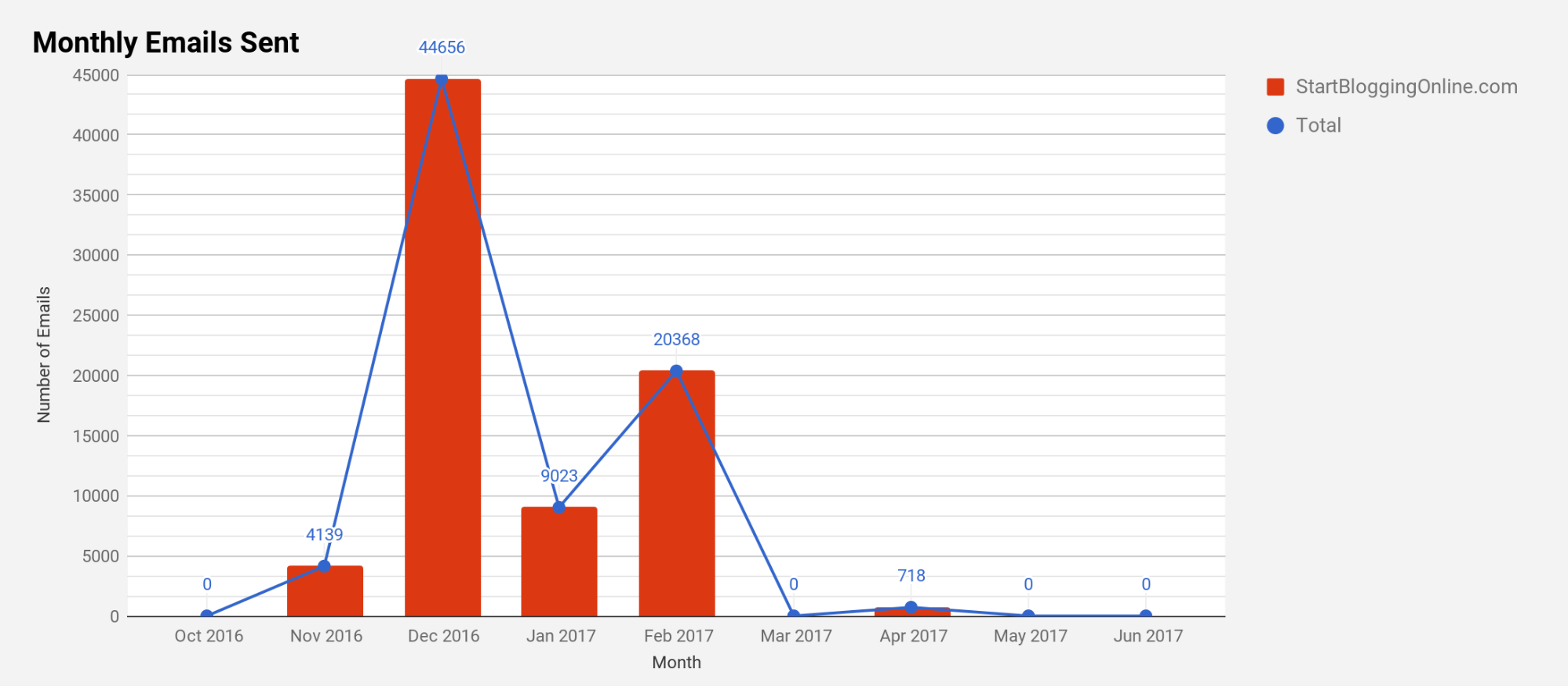 On top of the nearly 79k emails we sent out, we also submitted 78,998 contact forms to website and blog owners in our outreach efforts.
We created our own in-house automation tool to send out these emails and submission forms, but we did a thorough manual check first before firing off to these contacts.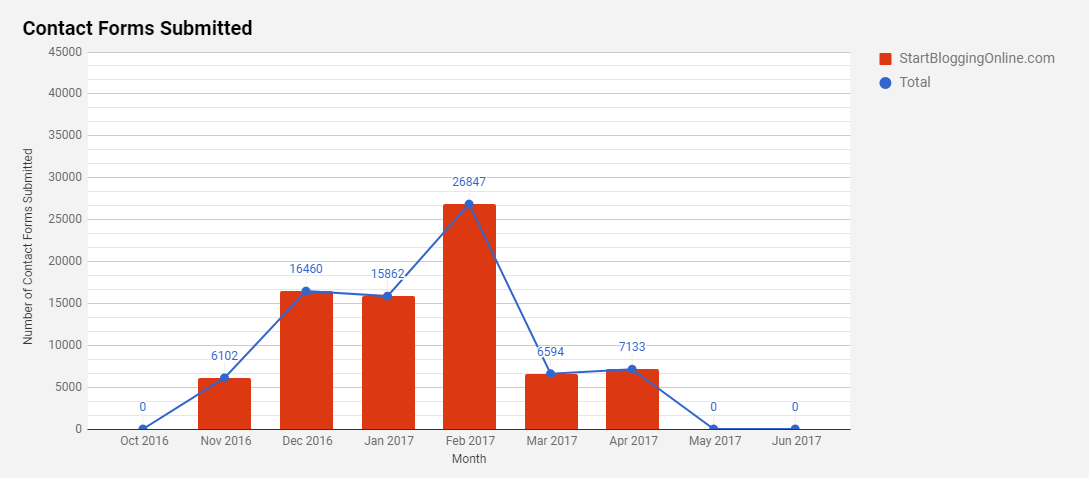 We made a customized introduction paragraph to accompany the infographic for those who responded positively in our outreach efforts.
In total, we sent 372 different custom intros (that took some serious brain juice).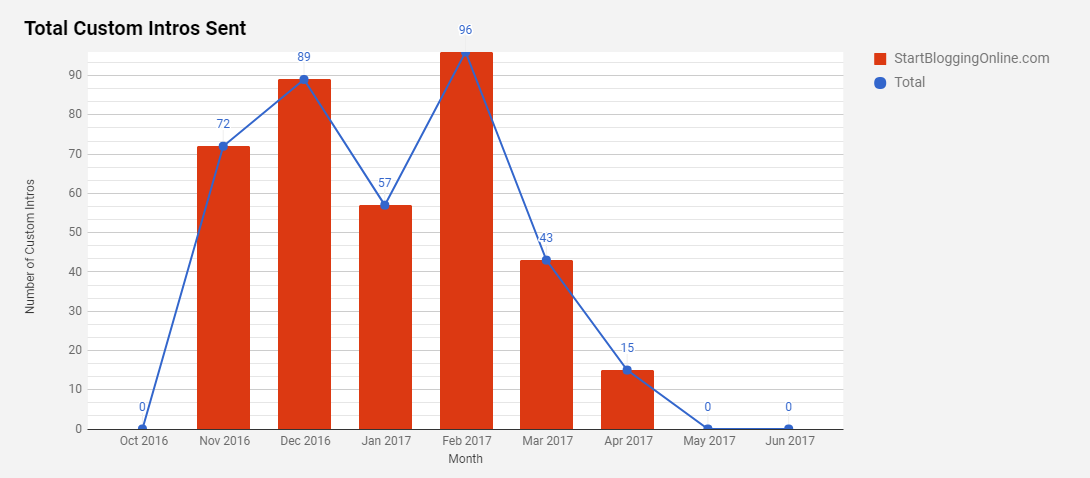 We scored a total of 336 links from infographics between Oct. and Jun. To put it into perspective, that was approx. 1.4 links/day, just from infographics alone!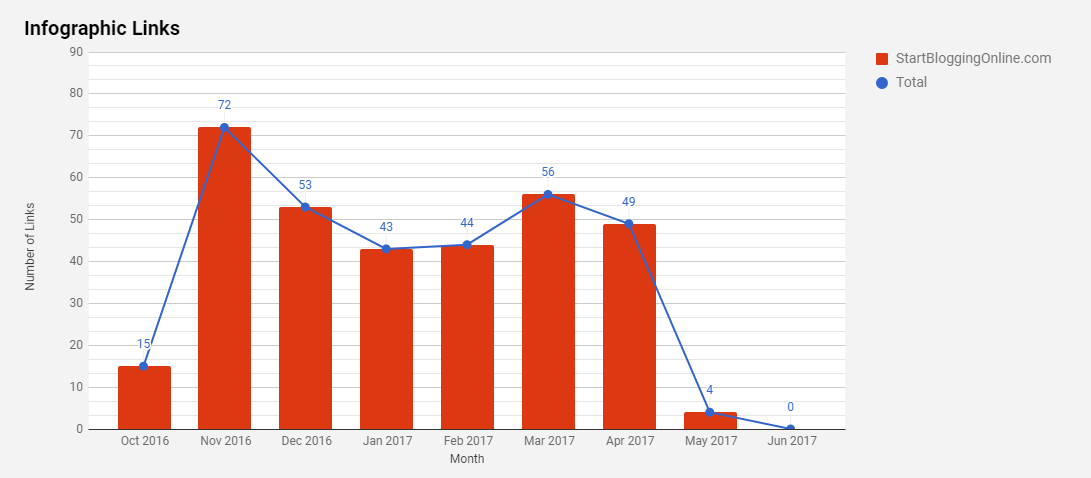 The average DA of these 336 infographic links was 24.9, not too shabby either.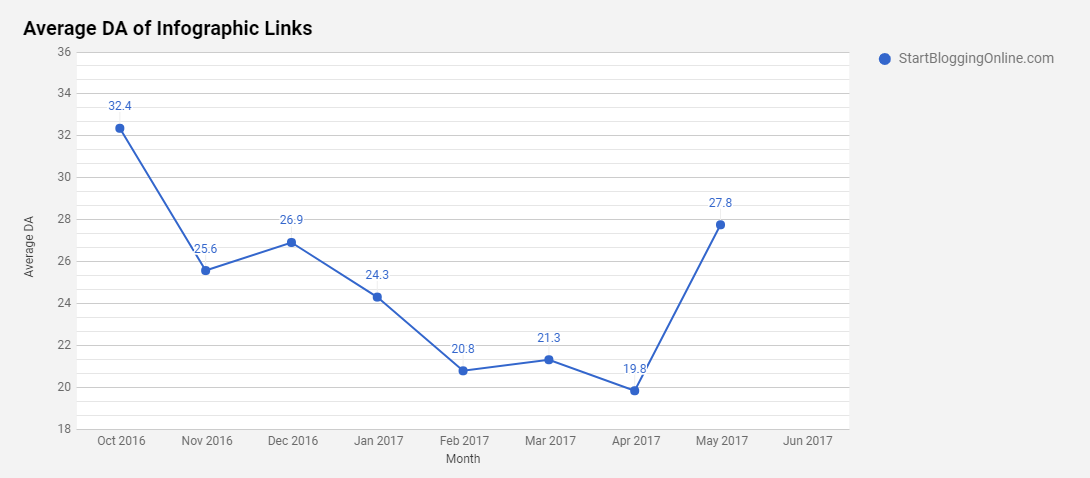 Results
With the combined efforts of building links through Flickr and infographics, we got a total of 526 links between Oct. 2016 and June 2017.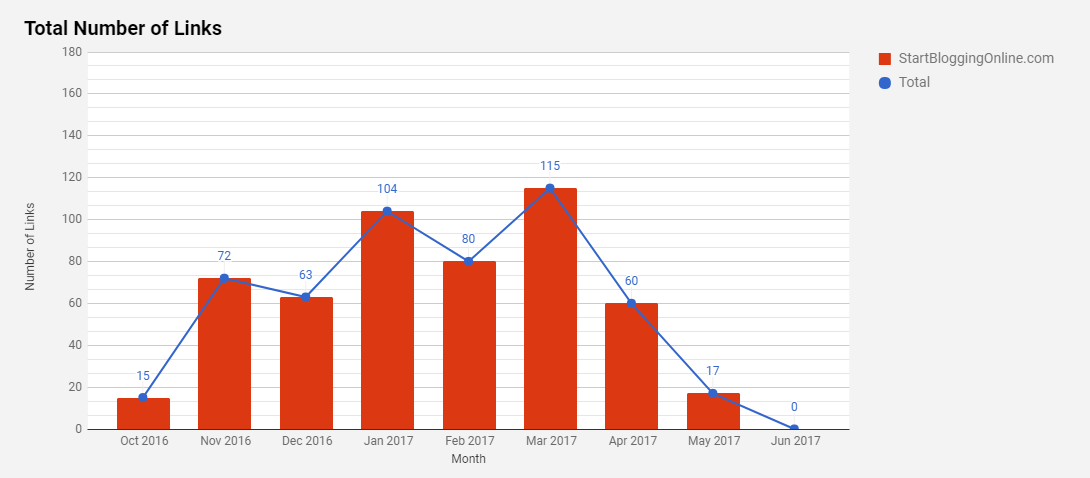 The average DA of these 526 links was 29.2.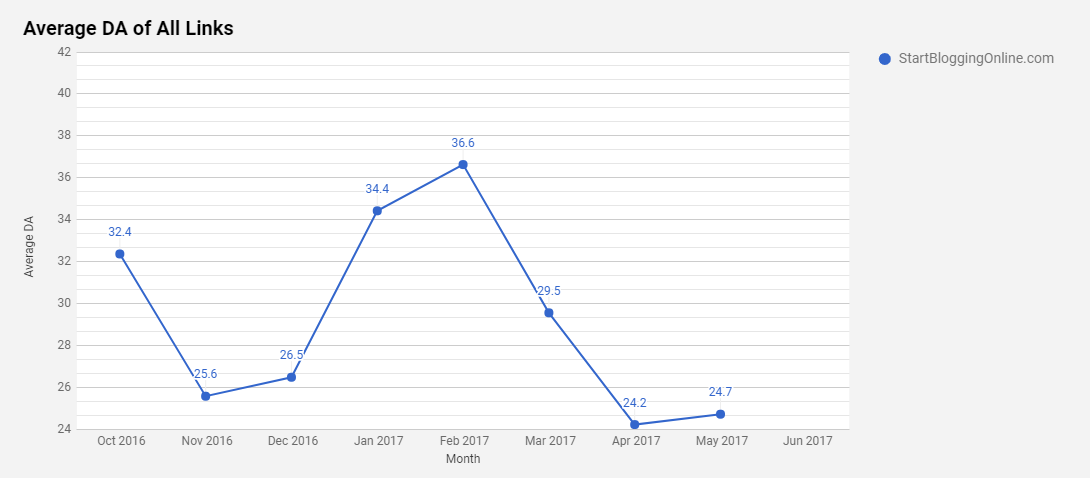 III. Creating More Content
Besides link building, we also published content targeting keywords. Between Oct. and June, we published 131 new articles.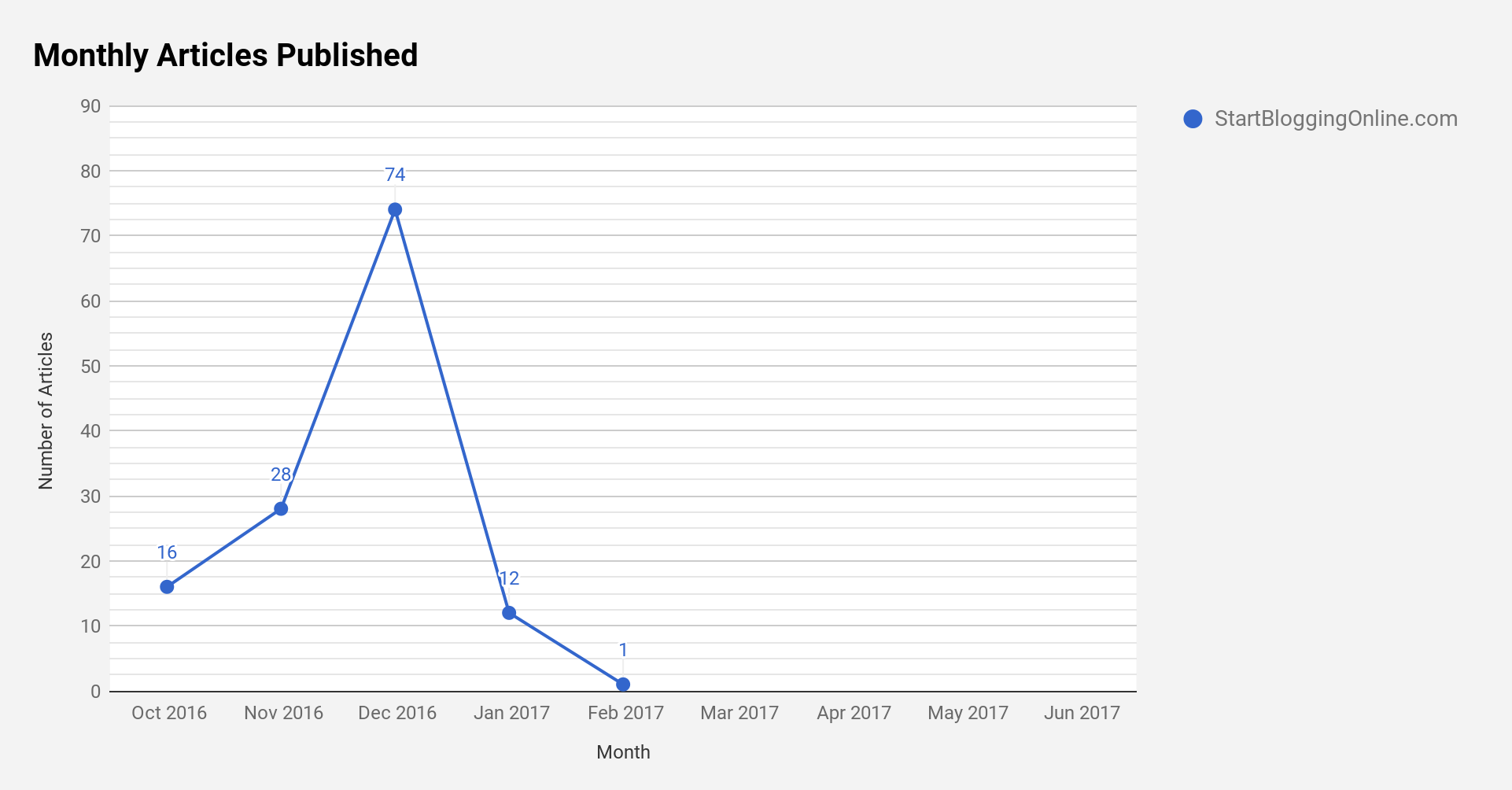 We published a total of 224,550 words, so each article was approx. 1,714 words long.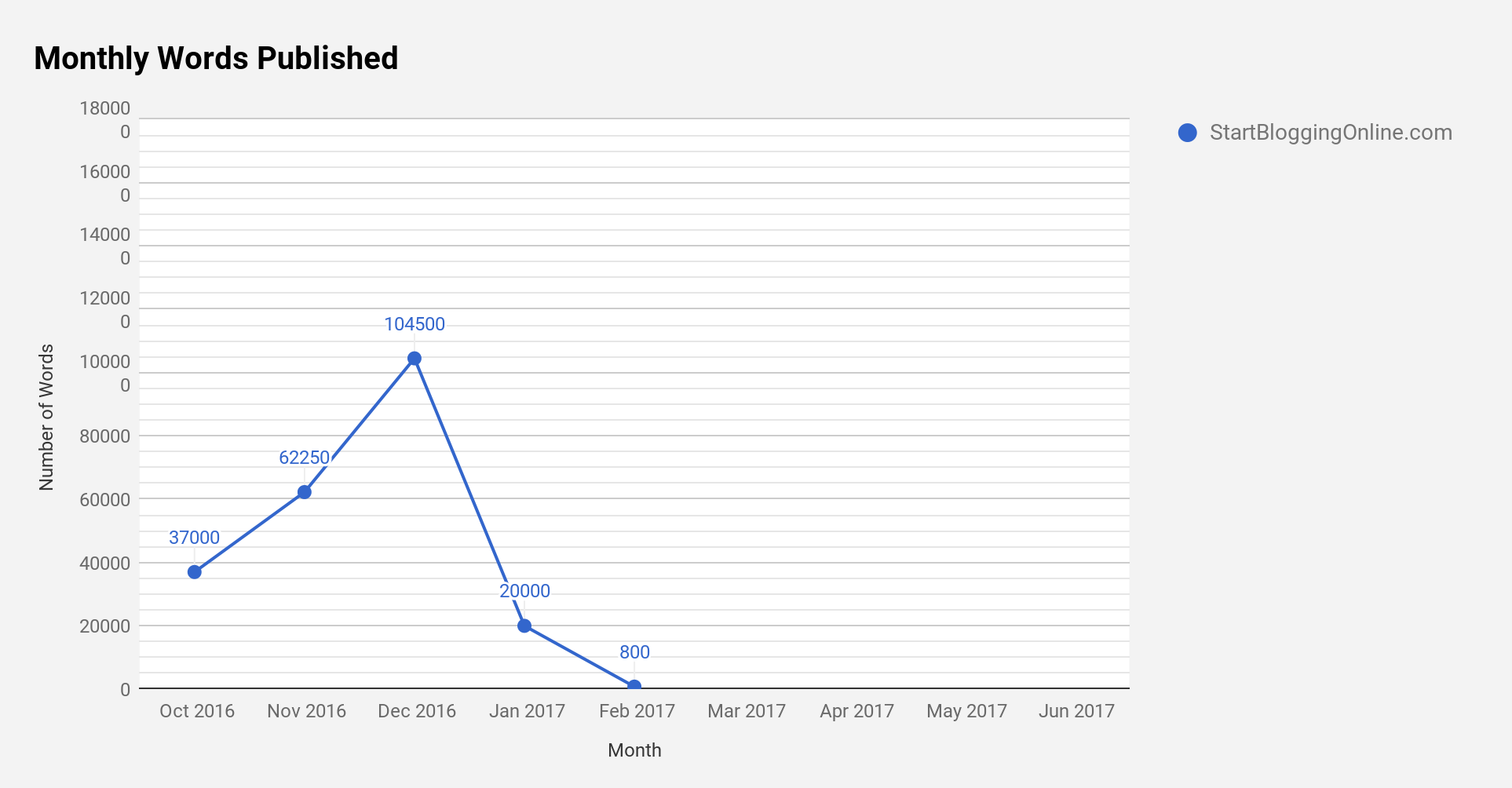 Google favored long form content and we wanted to try to rank for as many long tail keywords as possible with each article.
IV. Making On-Page SEO Improvements
We spotted some quick improvements we could make and added semantic keywords to the homepage and Frequently Asked Questions (FAQs) page.
This not only makes for a better user experience but also establishes topical relevancy in Google.
Clinching the Answer Box Position
We even managed to clinch the much sought-after answer box position in Google for one of our keywords by optimizing our content for it!
The best part is, you don't have to be #1 in the ordinary results to get this spot at the top.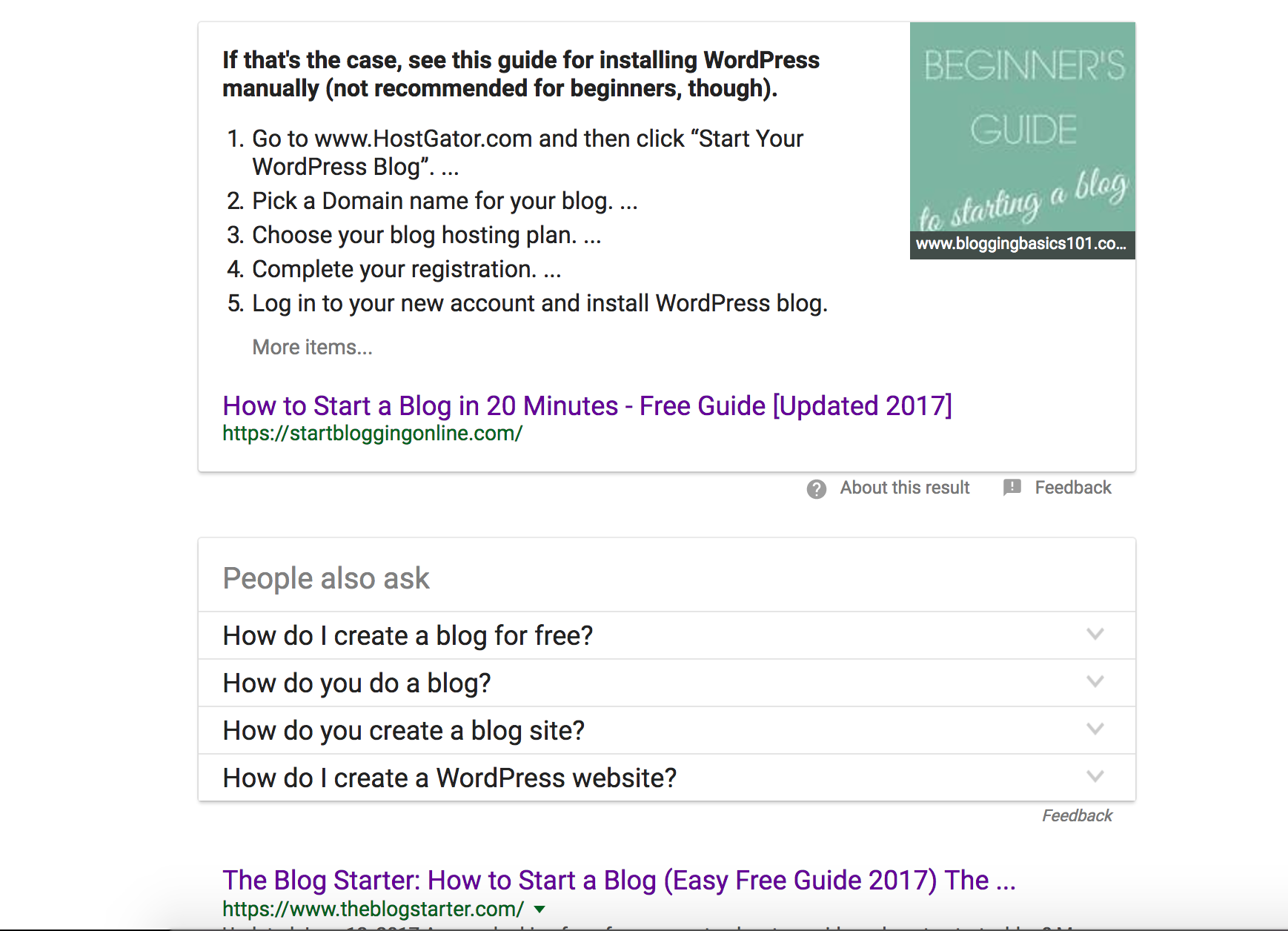 Updating Title & Meta Tags
In addition, we updated the title and meta tags to increase the click-through rate (CTR) from Google's search results.
We updated the title tag, starting with the pages with the most clicks and skipping those which we were already ranking #1 for or those where we had high CTR. We tried to include an exact match keyword at the beginning of the title: a number, brackets, and a power phrase (e.g. tips, you, why).
Next, we updated the meta tag to answer the searcher's question and tried to include 2 keywords where possible.
Lastly, we updated the date in WordPress to today's date (i.e. the day we made the changes).
After the change, CTR and traffic increased dramatically in the space of a week. See our Google Analytics screenshot below.

Here's a comparison of the CTR before and after we updated the title and meta tags.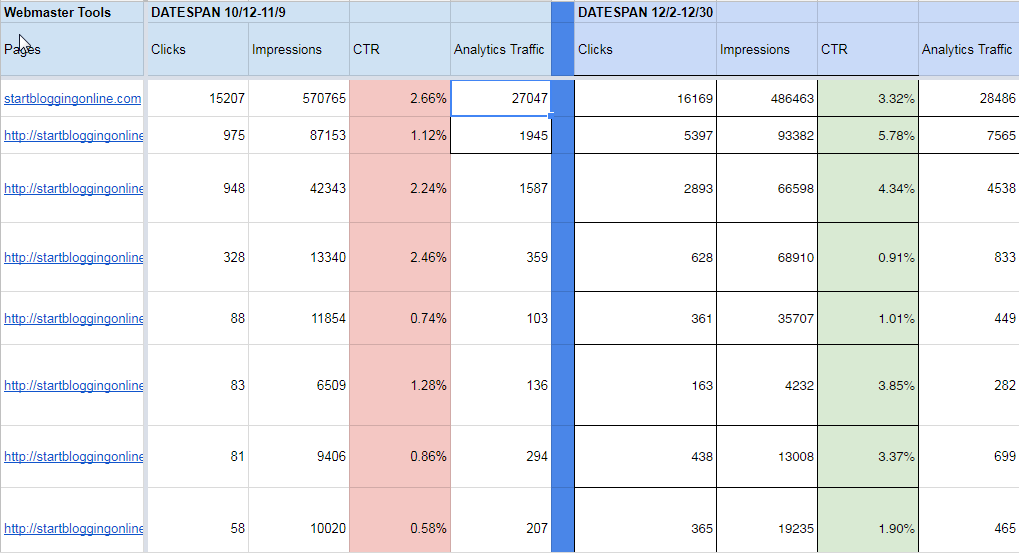 Adding Schema
Adding review schema to relevant pages increased the click through rates and rankings. This helps you stand out in Google with special markup in your listing.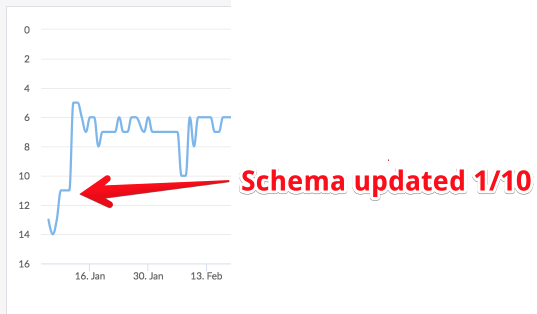 Our Keyword Rankings
Thanks to the combination of link building, new content, and on-page SEO, we had 85 keywords ranking on the first page of Google.
Many of these were money keywords, like "review", "best", and "how to" keywords; thus, explaining the high cost per click (CPC).
Also, many of these keywords moved up by 90-100 positions, which meant they were not ranking at all in Google a year ago.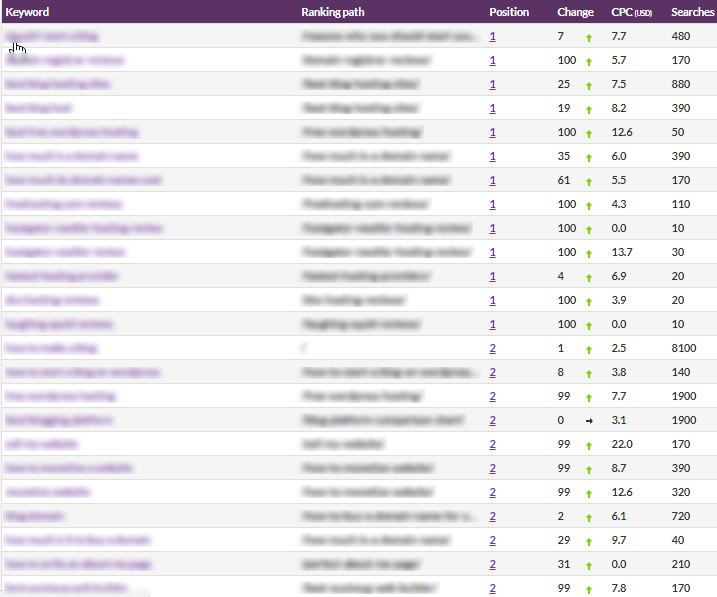 Our Traffic Numbers
Here's a screenshot of our Google Analytics dashboard.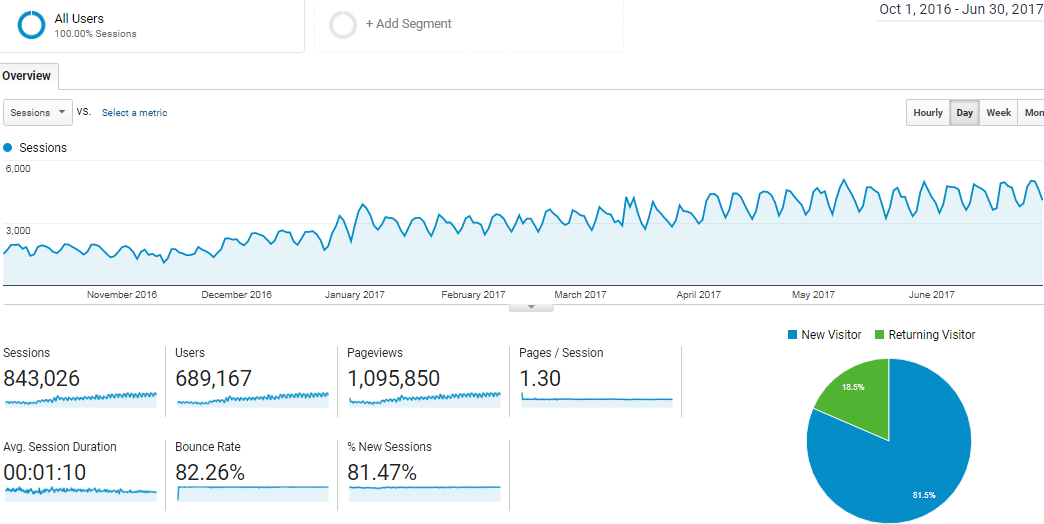 Traffic had been on a steady upward trend since we bought the site in Oct. We increased the traffic by 2.2x, from a baseline of 59,181 to 130,693 in June.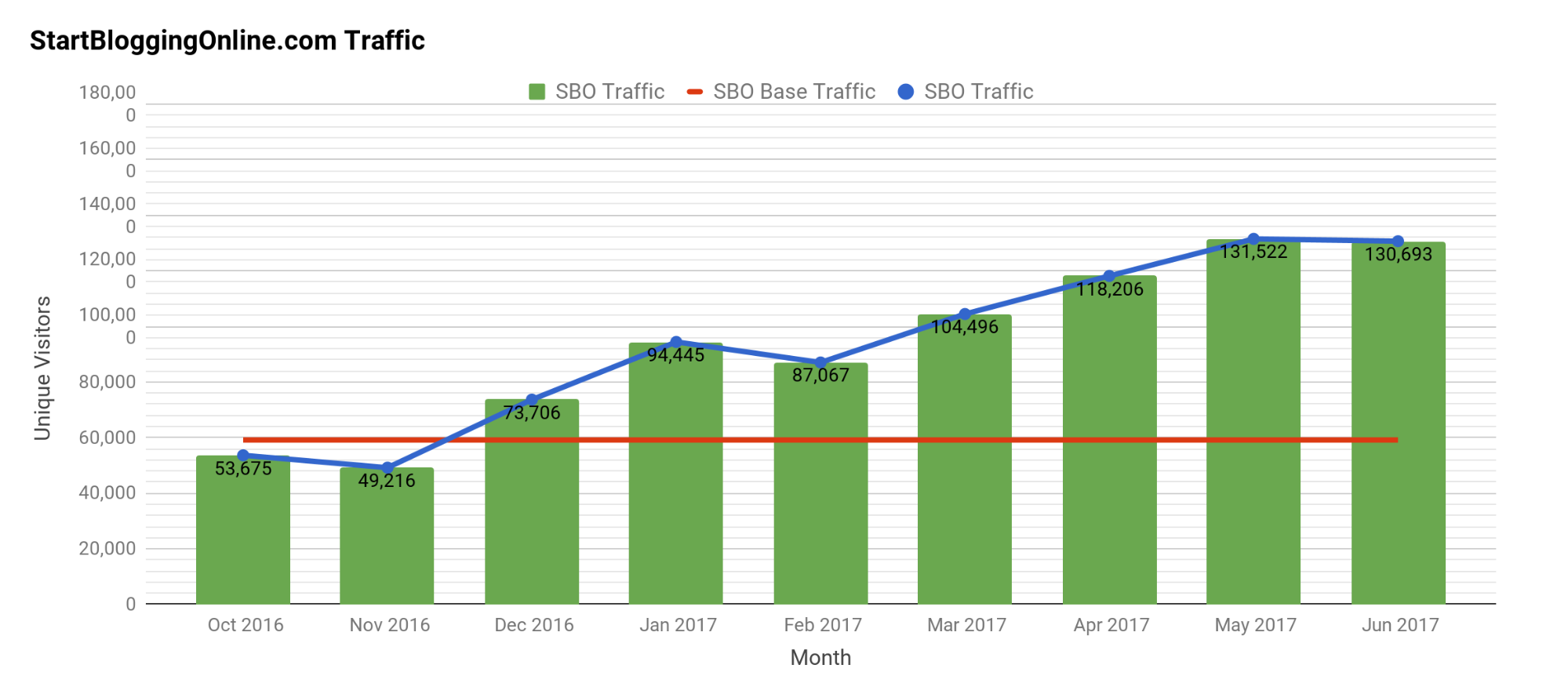 V. Turning More Visitors into Customers via Conversion Rate Optimization
Getting more visitors was only half the equation. We were also able to turn more of the existing visitors into customers with Conversion Rate Optimization (CRO). Here's what we did:
Added In-Content Call to Actions
We added in-content calls to actions after the second paragraph of each blog post, which increased the click through rate (CTR) to homepage by 30%.
Adding these internal links also had the added benefit of helping our ranking in Google.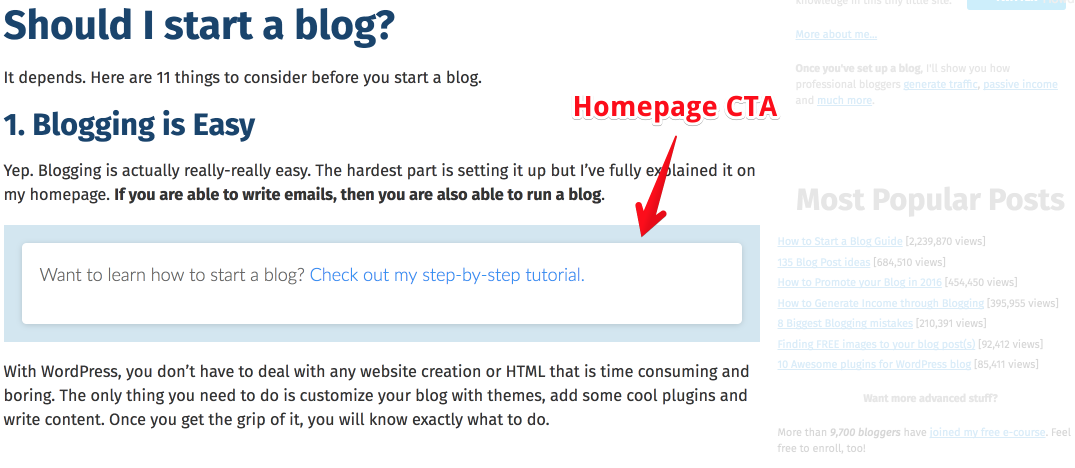 Here are the results from adding CTAs for our "Click To Homepage" Goal: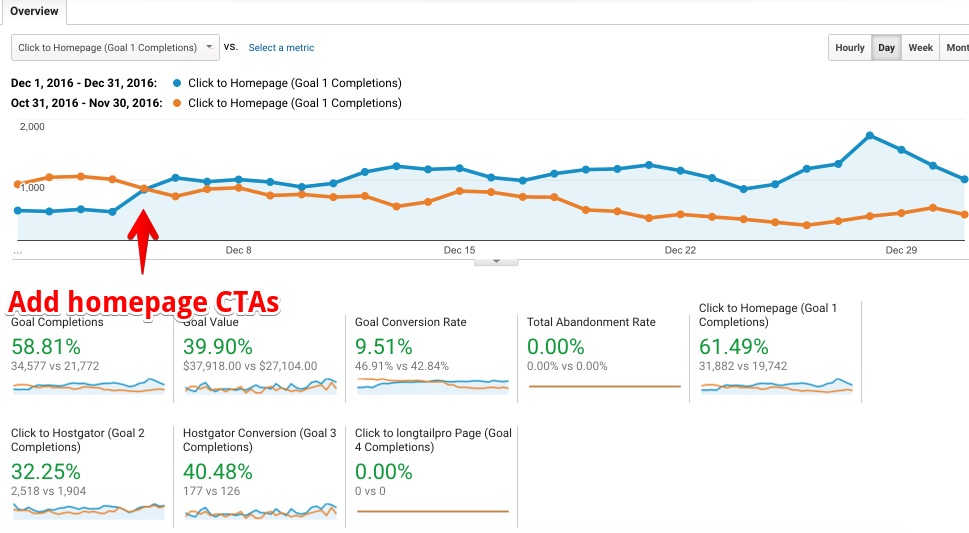 Rewrote Copy on Key Pages
We rewrote the copy to thoroughly answer our user's questions on key pages and added additional calls to actions.
To find potential issues, we ran heat maps, surveys, and competitor comparisons.
This increased our clicks to Hostgator by 3.6x on the blog platform comparison page:

Tested New Opt-Ins & Copy
We tested new pop-up designs and copy to increase signup rates for the email funnel. Here's what we did:
Added a Content Upgrade
We created a checklist as a content upgrade on our most popular blog post and saw increasing list growth to that campaign.

Added a Pop-Up
Instead of the previously bland opt-in, we added a pop-up with a clear call to action to sign up for a blogging tutorial (which led to a multi-step email sequence).
Here's the old opt-in, which was only shown in-line:

Here's the new opt-in, which was shown as a pop-up:
Adding the pop-up didn't hurt the click through rate to Hostgator and we got an additional $2,000 in sales per month.
Redesigned the Thank You Page
We also redesigned the email sign-up thank you page from this: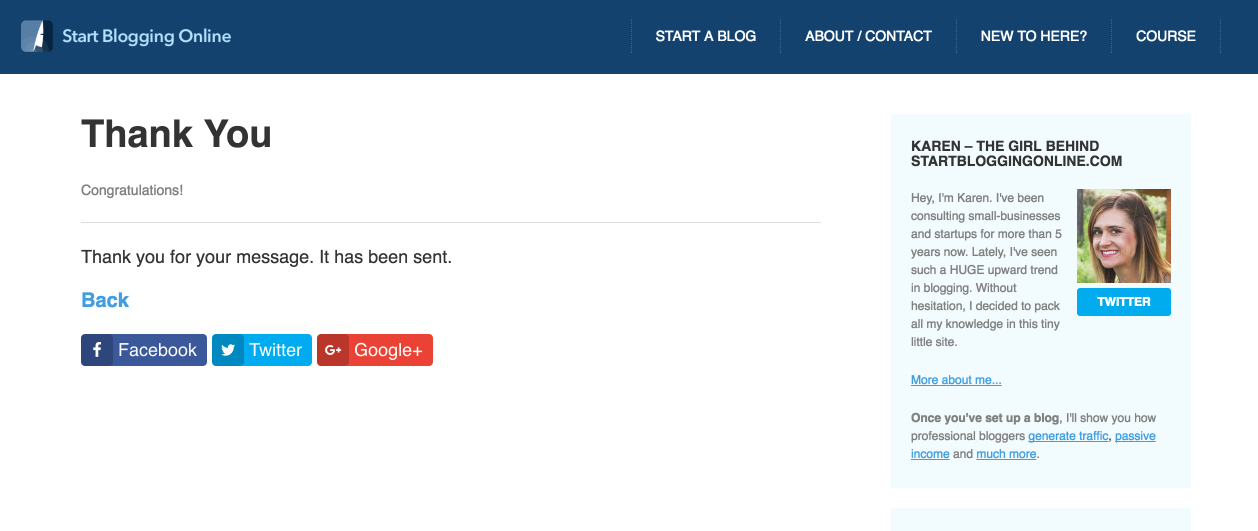 To this (so visitors could continue with the hosting tutorial after signing up to our email list):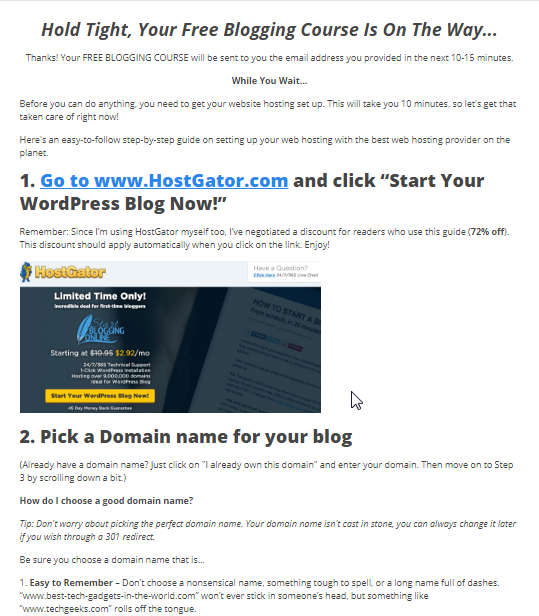 The Results
Since we implemented the changes in Oct., the email sign-up rate and number of new email subscribers per month increased monthly (except Jan-Feb when we did some testing).
In March, we redesigned the pop-up, which was why the CTR increased.
Note: The email sign-up rate was calculated by dividing the number of new subscribers by the number of unique visitors per month.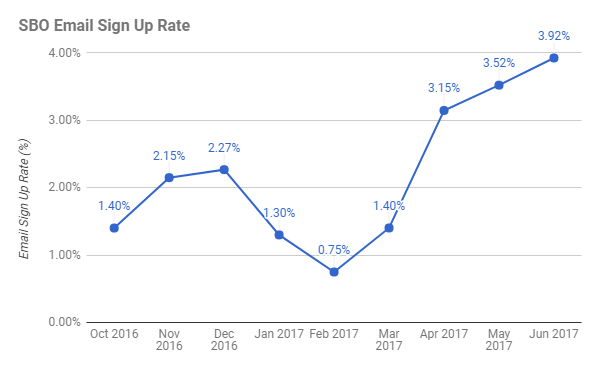 We used to get only 94 new email subscribers per month (baseline number) and, in June alone, we got 4,353 new email subscribers.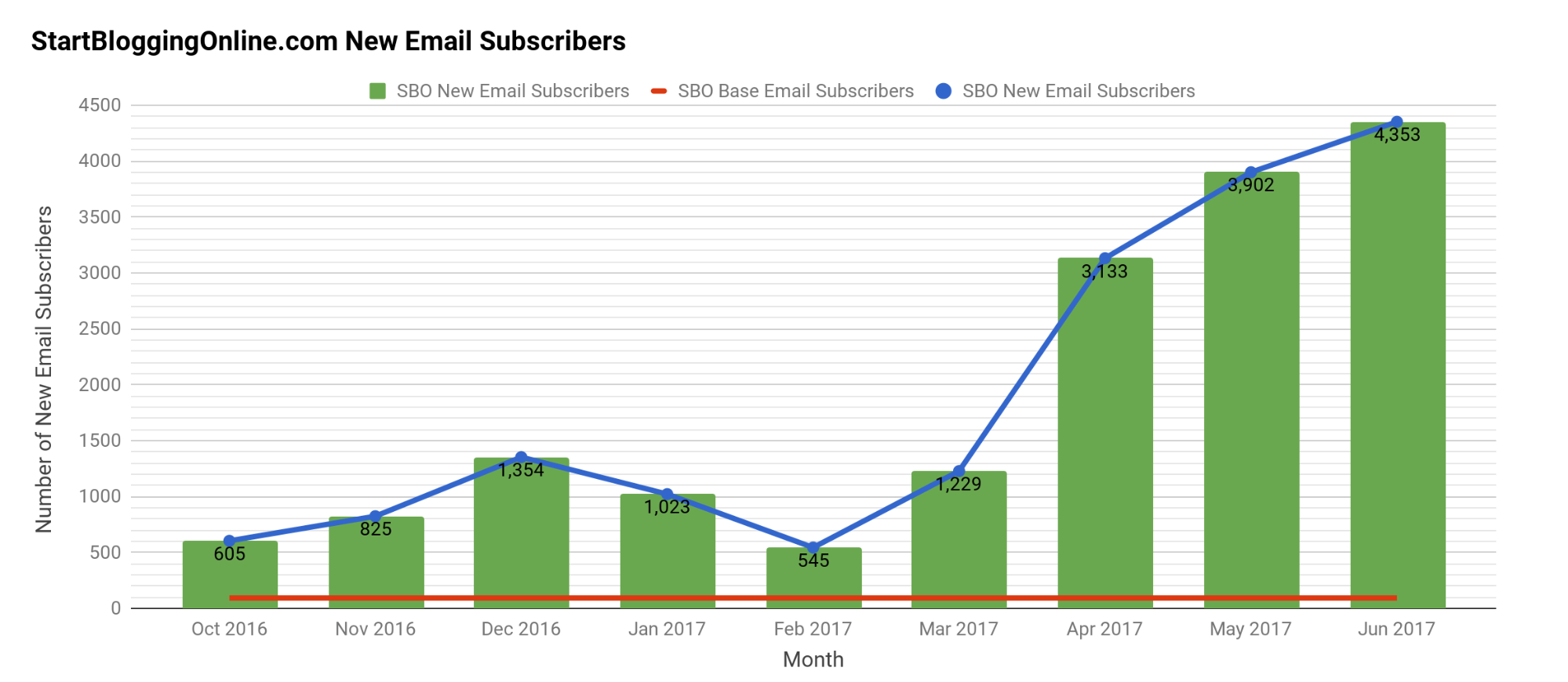 As of June 2017, our total email list size is 25,883, 3x our baseline list size of 8,635.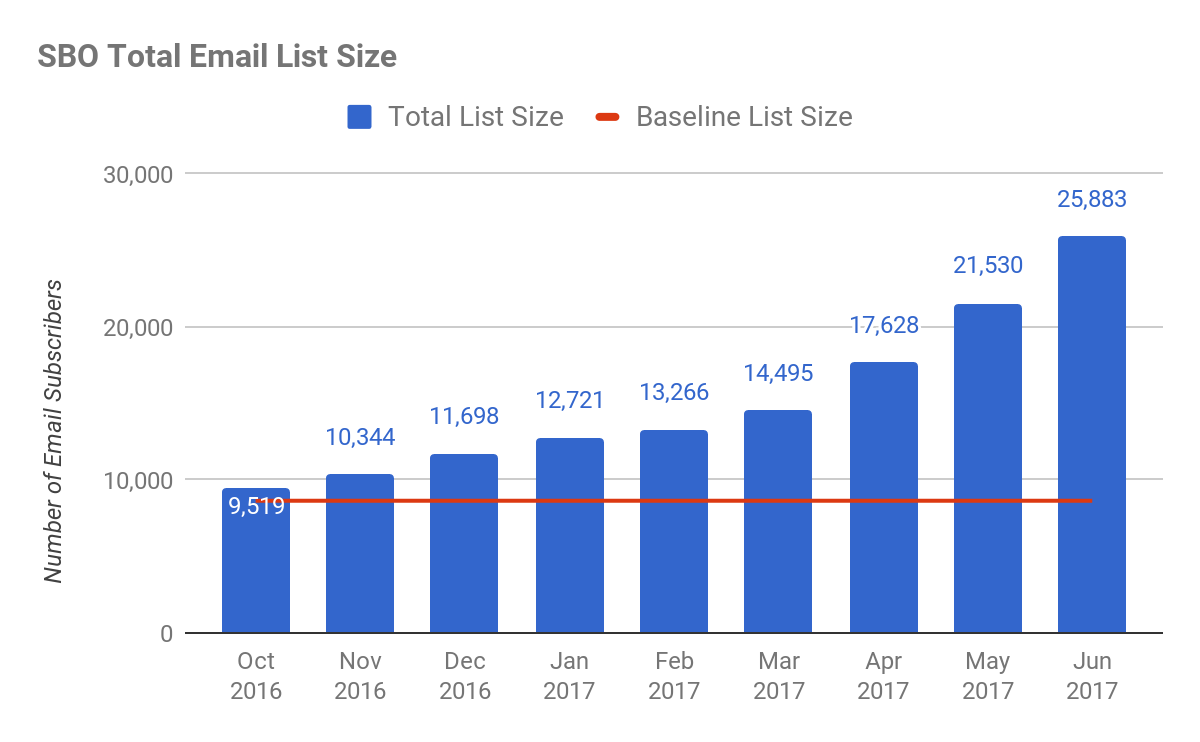 VI. Focusing on Email Marketing
When we bought the site, the email funnel was rather basic. The autoresponder consisted of 9 emails sent over 43 days and it didn't actively promote any offers.

So, we set up an email funnel to promote our own products and affiliate programs. Initially, we set up 3 separate funnels for subscribers where they could self-segment upon opting in.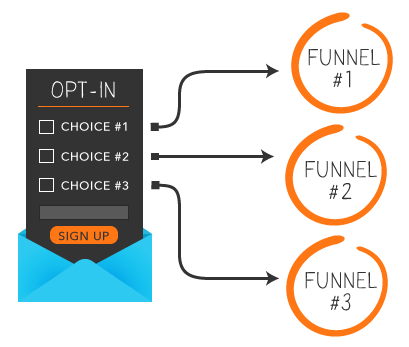 But we soon realized that segmentation didn't work well and was hurting our opt-in rate. So, we returned to having 1 funnel and removed the option of self-segmenting.
We lengthened the sequence to approx. 20 emails sent over 38 days. Besides educational emails, we made sure to promote our best affiliate offers in these emails.
To avoid email fatigue, those who bought Hostgator were fast forwarded 1 week ahead. They skipped emails talking about picking a platform/domain and comparing hosts…
…and went straight to actionable emails teaching them how to customize their blogs, create content, and get images.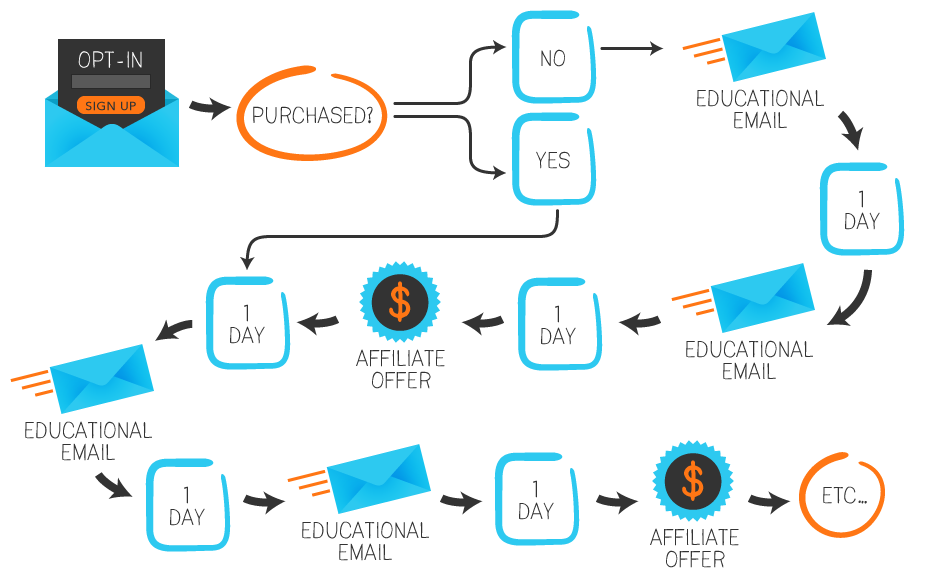 VII. Improving Our Site's Monetization
Negotiating a Higher Affiliate Payout Rate
Our lowest hanging fruit and quickest win was to negotiate a higher custom payout rate with Hostgator from $175 per sign up to $200 per sign up.
This meant a 14% revenue increase for every sign up we got, even if we did nothing else. This was as close to "free money" as it got.
Joining Other Affiliate Programs
We understood the risk of having only one major revenue source so we started exploring other complementary affiliates we could join such as Constant Contact.
There was a small trickle of revenue in Apr-May, but it didn't move the needle much.
Creating Our Own Info Product
Many competitors in the blogging space have their own info products. As one of our goals was to diversify our revenue sources, creating our own info product was a logical next step.
Having our own product would also yield higher margins. So, we created our own online course for newbie bloggers and tested several price points. But results were dismal.
Our list didn't seem to be ready to open their wallets. As of the time of writing, we've decided to make the course free and offer it to our email subscribers to generate goodwill.
The Results
Thanks to the increase in traffic and a higher affiliate payout rate, we surpassed our projections and increased our revenue by 1.9x from a baseline of $40,500 to $75,439 in June.
Note: As of the time of writing, the revenue was mainly driven by Hostgator, and other revenue sources were insignificant so we didn't do a breakdown.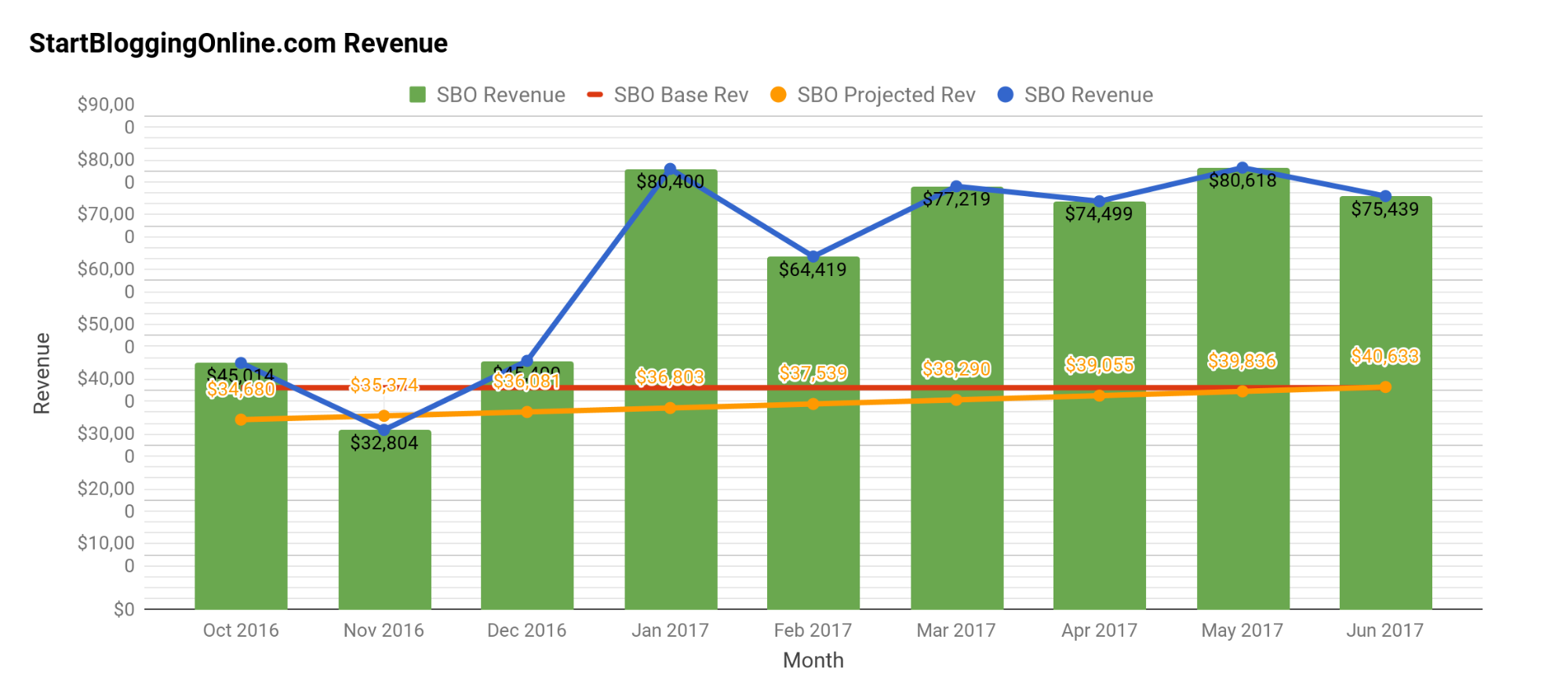 We closely monitored the number of clicks we got to Hostgator, a major affiliate and revenue source for us.
Just like our traffic figures, the number of clicks to Hostgator had been steadily increasing from 3,186 in Oct. to 7,994 in June. We increased the clicks by 1.9x from a baseline of 4,237 to 7,994 in June.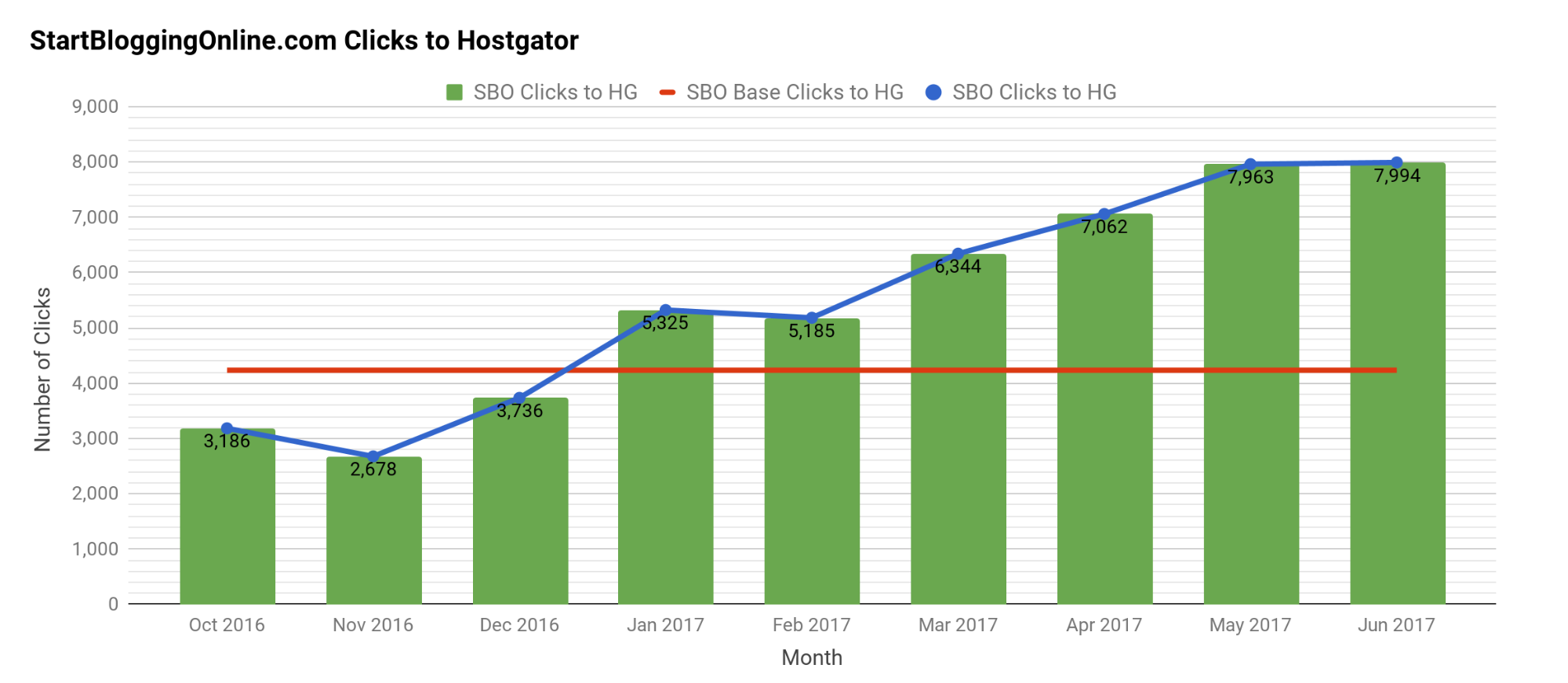 Between June and Sept. 2016, the average visitor value was approx. $0.723. After we started implementing changes in Oct. 2016, the average visitor value hovered around $0.844.
Note that in the publishing business, a visitor value of approx. $0.1 or less is common. So, a visitor value of approx $0.8 is considered high.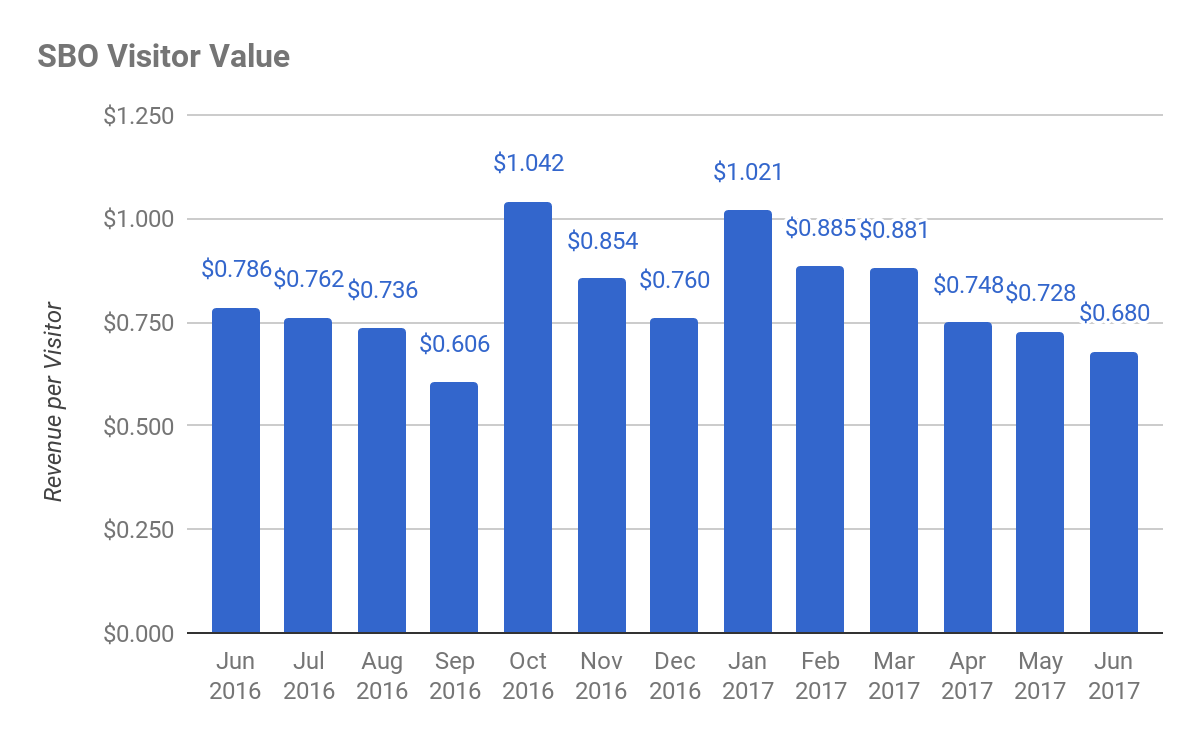 Bottom Line
We bought Start Blogging Online in Sept. 2016 and managed to

2.2x
the baseline traffic

1.9x
the baseline revenue

3x
the baseline list size

in 8 months. The site is now earning $75k/mo.
Here's what we did:
Growing traffic
Building more backlinks via Flickr and infographics
Creating more content targeting keywords
Making on-page SEO improvements
Turning more visitors into customers via conversion rate optimization
Adding in-content call to actions
Rewriting copy on key pages
Testing new opt-ins and copy
Focusing on email marketing
Setting up an email funnel to promote our own products & affiliate programs
Improving site monetization
Negotiating a higher affiliate rate with Hostgator
Joining other affiliate programs to diversify our revenue source
Creating an info product for our audience
Moving forward, we'll focus on diversifying our revenue sources and marketing our own course to the email list to mitigate the risks of over-reliance on Google and Hostgator.
Another challenge would be to find a long term persona as the "face" of our business. We're still undecided whether to continue with our current moniker.
Our goal is to generate over $1m in revenue per year, with half of the revenue coming from our own products. Eventually, we aim to exit with a 5x multiple.
Author Bio
Karen Foo is a deal flow expert and digital marketer with experience in a wide range of industries from finance to education. She is a National University of Singapore Business School graduate and her corporate career spans Europe and Asia.
The author would like to thank Ken Roberts for his input in parts of the SEO and CRO sections.