Want to invest in our portfolio of small businesses?
Investing in profitable online businesses with Kingmakers
Hi there,
Deven Soni and Hayden Miyamoto here, the founders of Kingmakers.
We thought we would share in our own words what makes Kingmakers unique – and why we think our Company provides a compelling investment opportunity.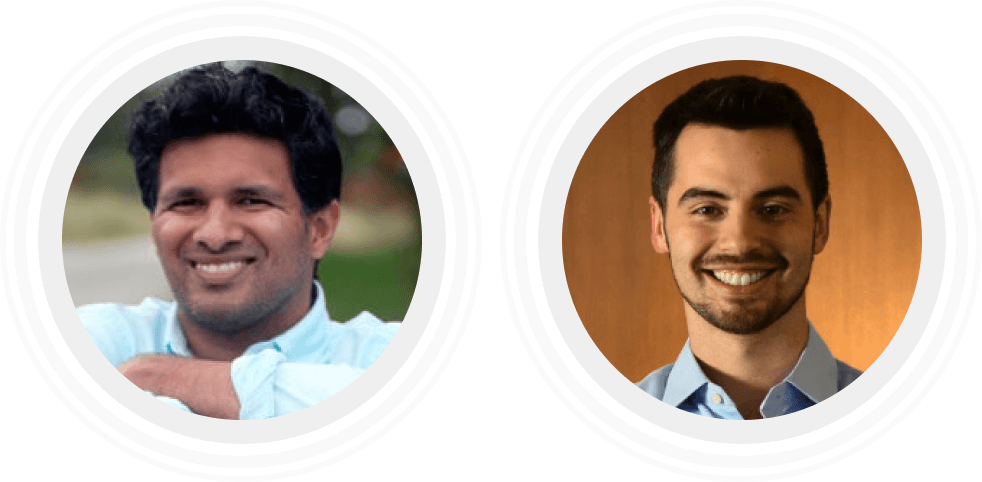 Kingmakers is a holding company that acquires stakes in profitable small businesses.
More specifically, we help our partner entrepreneurs find, analyze and acquire small businesses, and then assist in growing them post-acquisition.
We earn consulting revenue for helping our partners find businesses to buy – and also acquire a stake in our partner's businesses.
Kingmakers focuses on businesses that have a strong online component – as we find them the most scalable.
These are typically companies that generate between $500k and $1.5mm of cash flow and can include small e-commerce companies, niche software businesses and media sites (such as blogs and review sites).
These companies are typically run by 1-2 owners and can be acquired cheaply for 2-5x trailing annual cash flow.
With the right financing structure, we can earn 130%+ per year cash on cash returns on our capital without generating any growth.
We understand this may sound a bit dry, but hear us out…
The massive problem we are solving
There are over 30,200,000 small businesses in the United States alone - and only 10,300 were acquired last year.
This is despite more people than ever actually wanting to buy and own a small business, instead of start one from scratch.
Why the disconnect?
Our experience in the space has shown us that entrepreneurs need a wide range of skills to effectively acquire and run small business. These skills include:
The ability to find a good business for sale
The ability to effectively analyze a business
The ability to structure a win-win offer with the seller
The ability to document the deal in a way that minimize legal risks and optimizes taxes
The ability to take over the deal post-acquisition and transition the staff from the old owner
The ability to hire and manage a team
The ability to find the highest leverage activities to grow the business
Not to mention, the prospect of shelling out hundreds of thousands (if not millions) of dollars to buy what could be a lemon can be terrifying.
Our founding team has acquired over 15 businesses since 2015 and has developed deep expertise in each of these areas.
We built Kingmakers to help bridge this gap and help talented buyers confidently find and acquire the right small business for their needs.
And – our demand speaks for itself.
In our first 5 months of business, we have 14 partners that have paid a deposit to purchase over $30,000,000 worth of online business deals. We have found those partners businesses that have passed our diligence criteria, and aim to double our pace, and close 5 new deals each month by the end of our first year of operations.
And that is with almost zero promotion or marketing spend.
Our not-so-secret goal at Kingmakers is to become the largest owner of small businesses on the planet.
This is a multi-billion dollar opportunity that our team is perfectly built to execute on.
There is very little "smart money" in this space and because of that, the industry is starved for capital and sophistication.
This enables us to work with the best partners, invest in the best businesses, and get the best returns.
The Kingmakers team has acquired over $10mm of small online businesses since 2015.
These businesses have returned over 30% per year since that time, without heavy use of leverage.
Compounded over 10 years, a 30% annual return would translate to a 1,379% gain.
Because the businesses we invest in are so profitable, we expect dividends to drive a significant portion of the returns to investors.
We plan on paying our investors 10% annual dividends after 1 year of operations. We forecast this to increase to 50%/year dividends within 4 years of launch.
We also plan on exploring an IPO once the business is earning over $20mm/year (which is currently projected to be on or around 2022).
Just as we feel every ambitious person can benefit from a strong set of mentors, we feel that growing companies should have their own role models.
At Kingmakers we have a very specific set of billion-dollar role models businesses that we have taken inspiration from.
Our business role models include:
Founded: 1970 | Market cap: $508.1 Billion
Sometimes companies are a cliché for a reason. Warrant Buffet & Charlie Munger's philosophy of investing in great businesses at fair valuations (often when they are out of favor), reinvesting the profits and having a long (20+ year) timeline to compound capital are basically a sure-fire way to recipe for success with investing.
Kingmakers puts this model into overdrive by focusing on an asset class (small cap businesses) that is even more unloved than the small public companies that Buffett spent his time on.
Founded: 1882 | Market Cap: $71.7 Billion
As a former investor at Goldman Sachs, our Founder Deven Soni got an insider's perspective on what made the firm tick.
What he learned was the culture of hiring the best, training them well, and incentivizing strong performance. These lessons have carried over into Kingmakers' DNA.
Founded: 1985 | Market Cap: $53.1 Billion
What we love about Blackstone is their original fully balanced business model. They started out in 1985 with 2 simple business lines: an investment banking arm that generated enough cash flow (to pay the bills) and a private equity firm (that invested their capital into highly profitable long-term deals. Blackstone took this mindset of combining short-term cash flow.
Kingmakers has evolved a similar approach of providing consulting services to cover operating costs, using our consulting arm as a vehicle to generate new investment opportunities, and using excess cash flow to invest in long-term growth.
Founded: 1995 | Market Cap: CAD $25.9 Billion
As far as mentors go, Constellation software is what we hope Kingmakers becomes in the next decade. Constellation is a roll-up of profitable software based businesses..
They've acquired over 150 businesses over the last 24 years, and have developed a world-class playbook on how to buy businesses for below market valuations and incentivize management to scale their portfolio.
Kingmakers hopes to take some of the lessons from Constellation and apply them to our own business model.
Why we started Kingmakers
During our time running our private equity portfolio, we met hundreds of smart, motivated people that loved what we did. Many were established entrepreneurs eager to buy (instead of build) their own business – others were mid-career professionals that wanted to stop working for themselves.
No matter the resume, the unique factor was a strong curiosity and respect for what we had built.
All of the founders of Kingmakers took that initial leap to entrepreneurship – and we want to help even more individuals take the first step with confidence.
We truly feel that combining our deep expertise in small business m&a with talented entrepreneurs will help us build a long-term multi-billion dollar brand.
If you'd like to learn more about investing into Kingmakers, sign up on form at the right: