DIRECTOR OF TECHNOLOGY & ANALYTICS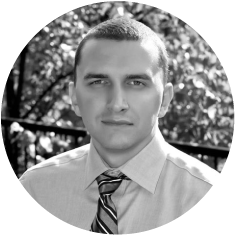 Dmitri has been working with web assets for nearly 2 decades. After meeting Hayden Miyamoto while playing recreational soccer in the early 2000's, Dmitri helped Hayden grow a pair of e-commerce businesses as well as a digital agency.
Dmitri was also Chief Operating Officer for the leading real estate marketing agency in Canada, and more recently ran the CRO arm of a Kingmakers sister company focused on digital acquisitions in the finance vertical.
Working in online retail and marketing spaces, Dmitri learned the importance of properly organizing and streamlining processes across various business departments. As a result, he has developed several CRM, CMS and POS applications throughout his career that have saved businesses thousands of man-hours and hundreds of thousands in operating costs.
Dmitri joined Kingmakers in 2018 and manages the development of their proprietary CRM and deal flow software which helps Kingmakers streamline and scale the business sourcing process.
Dmitri lives in Bolton, Canada with his wife and a daughter where they enjoy a healthy mixture of countryside and city living.